Mission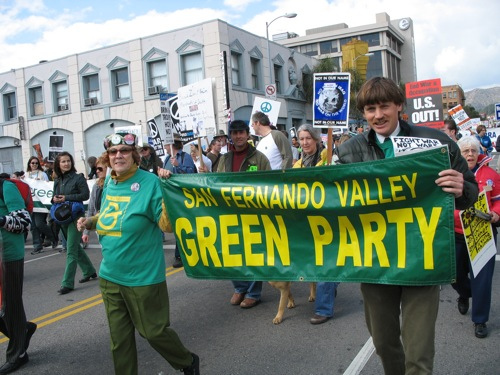 The Green Issues Working Group is charged with identifying and facilitating state party action on external Green issues not already delegated to another Committee or Working Group.
This includes working to:
•  Identify, facilitate discussion and prepare proposals on issues and events that should be addressed by GPCA;
•  Advise the Platform Committee on the development of platform proposals on issues identified by the Working Group;
•  Promote and provide support for Green issues to candidates running for office; and
•  Build coalitions with other organizations working on Green issues.
How to volunteer
Any Green Party member can participate in the Green Issues Working Group (GIWG). 
The GIWG meets by phone and in person at Green Party of California General Assemblies.  Working group members earn voting privileges when they attend at lease two working group meetings within two years. 
There is also a GIWG email list open to registered Greens in California.  Subscribe at  http://lists.cagreens.org/cgi-bin/mailman/listinfo/green-issues-wg.  
For more information, contact GIWG co-coordinators April Clary and Alex Shantz.  You may also contact Jesse Moorman, Coordinating Committee liaison and Dorothy Kemeny, alternate co-coordinator.